Village Fire Department
Our mission is to save lives, protect property, and serve our community with courage, commitment, and compassion.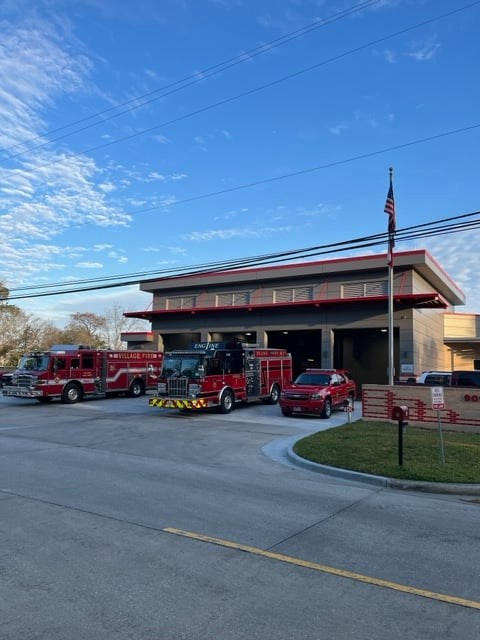 The Village Fire Department protects and serves the Memorial Villages – a collection of six individual cities (Bunker Hill, Hedwig, Hilshire, Hunters Creek, Piney Point, & Spring Valley), covering over nine square miles, with a residential population of over 20,000 people – by providing both fire and emergency medical services. The department consists of 50 full-time employees, including a Fire Marshal.
The Village Fire Department has been awarded a Class 1 Public Protection Classification rating by the Insurance Service Office (ISO), an organization which independently evaluates municipal fire protection efforts in communities throughout the United States. The Class 1 rating is the highest possible score given to any fire department nationwide. The Village Fire Department is 1 of 74 agencies in Texas and 411 in the United States of roughly 45,000 fire departments.
Hurricane Season is NOW! Are you prepared?
As you know, August begins the real launch of hurricane season in Houston. It is a good idea to be prepared. Everyone should be self-sufficient for a week.
If you have essential medications, please ensure you have enough to last at least a week. Do not allow your pill bottle to run low without getting a refill.
Have enough cash on hand in case credit card or ATMs become inoperable.
Have enough water and shelf stable food on hand for you and your pets. If the power goes out, you may enjoy your freezer items for a day, but not much more than that.
If your home has a generator, have it serviced and ready to go. My house generator showed a green and yellow light on the indicator, meaning it was time for a service check. Take care of it now before you are forced to rely on it.
If you do not have a generator and depend on power for life-saving medical equipment, such as an oxygen generator, call the fire station and let us know (713-468-7941). We want to know if we need to check on your well-being if the power goes out. We can confidentially put your address and need in our computer dispatch program.
The Fire Department has been preparing also. Just this month, the Cities have provided the approval and funding for us to staff a second ambulance. In addition, after the last flooding event, we purchased 2 boats and had a third boat donated.
If you have any questions, please give us a call. We would be happy to stop by and assist with your preparations.
– David Foster, Fire Chief [8/5/2022]
This is an important fire safety alert from the Fire Chief! We, in the Villages, have had 2 house fires in as many weeks. These fires were caused by pool pumps. The pump filters were clogged which caused the motors to overheat and catch fire. The PVC pipes burned, and the fire ran up the side of the house into the attics. These were not the first pool pump fires we have had; we've had about half a dozen of these over the past couple of years. Please ensure your pumps are properly maintained!
– David Foster, Fire Chief [7/13/2022]